The coloring with henna is a coloring of hair that has been around for decades.
Une technique démodée ? Colorant trop prononcé ? Forte odeur de plantes ?
No more preconceived notions. The coloring is now back on top of the scene, while establishing itself as a more efficient technique based on an extremely natural finish.
What's henna?
First of all, let's start by defining the two types of henna.
There is natural henna and neutral henna.
Neutral henna comes from a small plant growing in sub-equatorial Africa, semi-arid subtropical regions, the Arabian Peninsula and India.
It does not contain any colouring pigments, it strengthens the hair while giving it shine.
The natural henna, is a plant native to Arabia and India growing in the arid regions of the Sahara and the western Pacific.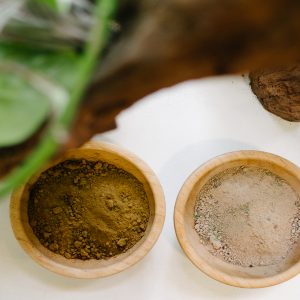 The leaves of this plant contain a natural pigment with a reddish-orangecolor called lawsone: the pigment is more abundant when the plant is cultivated in a temperature between 35 and 45 °C.
For example, Egyptian henna ismuch lighter than Rajasthan henna.
These plants are less intense than the Yemeni one. In addition to its colouring aspect, henna purifies and cleanses the scalp and regulates the sebum of the oily roots.
It gives thickness and volume to thin hair, sheathes and reinforces the hair fiber , also brings shine to the hair while protecting it from external aggressions.
The orange-red molecule of color henna mixes with keratin to surround the hair pigments.
Unlike chemical coloring , natural henna is applied to the hair without any coverage of the scales.
The different properties of henna
A henna coloring itself requires only one ingredient: natural henna.
The coloring henna is therefore defined according to its dosage and red-orange tones.
To get more color from coloring to henna such as brown or chestnut for example, you need to add another natural powder to the natural henna powder that acts as a colorant.
The latter allows you to obtain colours from copper to auburn .
Honeyed chestnut, blond henna, dark chestnut, black henna or even garnet brown: all these henna are derived from the mixture of neutral (for blond people) or natural (copper) henna with other colouring plants such as Ceylon cinnamon, indigo, walnut stain, hibiscus, camomile...
The coloring with henna for white hair
Regarding white hair, coloring with henna is a little different and requires more precautions.
First, you must apply natural henna for three hours before rinsing. Then you apply the desired color (the natural henna from the first step acting as a fixative to the color which you put on afterwards) and leave it on for another three hours.
It's a long step, but a much more effective one.
Comment se lancer ?
coloring henna is a unique technique, but it all depends very much on the initial color of your hair.
Biocoiff' offers you products from colorings plant-based made from henna.
Would you like to try coloring 100% vegetable to sublimate your hair?
Order directly your Box color Biocoiff' with your personalized formula.
Your home-made plant coloring will be safe, thanks to the steps to follow described step by step.
Don't hesitate to make an appointment or order in one of our famous Parisian salons.