Greasy hair? Not for me! Ever since I got used to a 100% natural routine, my hair has thanked me!
First and foremost, it's important to know that it's not just a simple mask or tip that will make a difference. It's all about having a regular and perfectly healthy routine.
To get started, discover a mask that will reduce your worry about greasy hair.
The recipe
3 tablespoons Hair mask base
3 drops of Atlas Cedar essential oil
Here, the dosage corresponds to a long hair base, you are free to minimize according to your length.
Application
You should start with the roots of your hair while massaging it gently under the nails. Then spread the rest of it on the lengths and tips. Leave it on for at least 45 minutes. Then rinse and use your shampoo as usual.
Frequency
Use before each shampoo, once a week.
Result
Essential oils offer you an effective and immediate result. One reason why I like to use them in my beauty care.
I especially chose Cedar essential oil, because it is an integral part of the EO's, which are essential for oily hair. This oil is also a real sebum regulator.
You can also discover other essential oils, perfectly ideal for oily hair: clary sage, bergamot, grapefruit, lemon, noble laurel.
Atlas Cedar effectively eradicates dandruff and also significantly reduces excessive hair loss. It is one of my favourite oils.
WE FORGET and WE THINK
We forget about petrochemical shampoos and think only about gentle shampoos with an excellent composition. My current favourites are SHAMPOO Oily Hair and Organic Tea Tree Shampoo.
If you think that almost daily shampooing is essential, you can wash your hair very often, as long as it is natural and gentle. Washing powders (Shikakai, Sidr or Rhassoul) can also be used without any problems.
Heating appliances such as straightening irons should also be avoided as they burn the hair. If you can't do without them, use a hair dryer, BUT keep the temperature medium. For natural straightening methods, you can use the twist bun or the kardoune. To dry your hair gently and for more of a "patcha" effect, you can use a natural bamboo towel.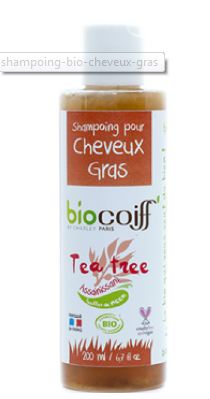 You have to
forget about running your hands
through your hair, scrubbing or scratching, and do it aggressively.
GENTLE
is the word to use. You can massage for 5 minutes before shampooing to relax and optimize your hair growth.
The
clay mask should be applied once a month
, and with green clay, it will be even better!
Don't forget to
eat a well-balanced diet,
as well as moisturising. Also remember to get a
good night's sleep
and
improve
your lifestyle.
Finish the shampoo with
cold water or an acidic rinse.
You can also add
3 drops of essential oils
to your shampoo.
Avoid
plastic
brushes
and accessories and prefer
wooden brushes
.