Discover the Biocoiff' Shampoo Range !
Biocoiff' products certified Organic, Vegan & Cruelty Free and Vegan
Used for several years in the Parisian hair salon Biocoiff' by Charley, they are perfect for professional use in a hair salon and for regular use at home.
This range has been developed to meet the needs of our customers while respecting our planet.

A complete range to suit all hair types: dry, oily, fine, dehydrated, for young shoots, and a conditioner detangler and fixer from color (ideal after a vegetable coloring ).
This range is :
Certified Organic 
Certified Vegan & Cruelty Free
Made in France
Available in several outlets in France and on the online shop: www.biocoiff.com/boutique
The choice of ingredients has been meticulously selected to produce formulas that are both healthy and effective.
The Biocoiff' range of certified organic liquid shampoos: the 100% natural solution
A Parisian hairdresser has decided to tackle the problem and offer a completely organic approach to hairdressing and hair care.
For 10 years, Biocoiff has been composing 100% natural shampoos for clean and silky hair.
Plants offer everything you need to create shampoos for all hair types:
These few examples demonstrate once again the generosity of nature.
Better still, 100% organic and natural shampoos are totally respectful of fiber and the scalp.
No more dryness and constant irritation.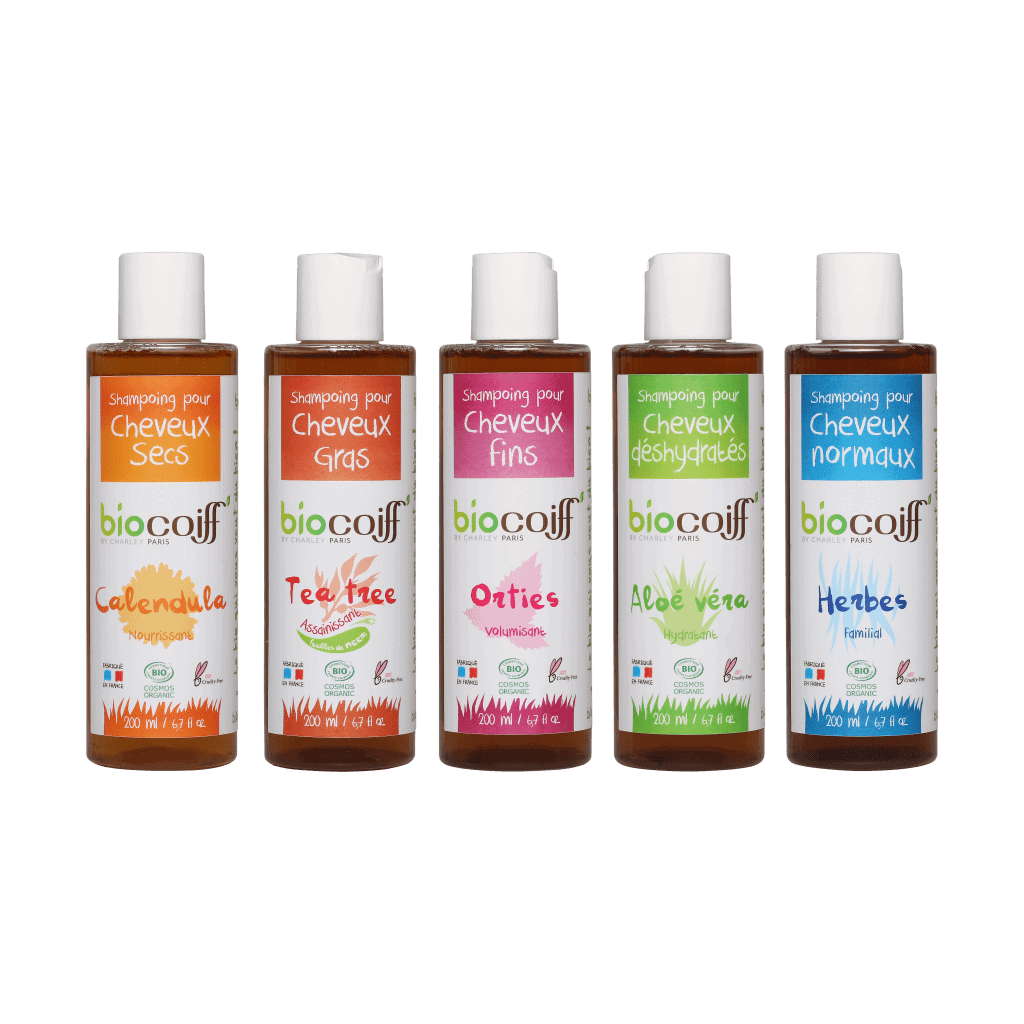 The Biocoiff range now offers a natural and healthy alternative to chemical shampoos.
It proves its results every day. The damage perpetrated by the chemical agents of industrial shampoos could be repaired by the use of these herbal shampoos.
For 10 years, Biocoiff has been revolutionising the world of hair care and hairdressing. Its efforts to develop a vegan approach to its business contribute to the health of the consumer and the protection of nature.
Today, each hair type will find in the Biocoiff range a shampoo adapted to its needs. One more reason to bring organic hair into your bathroom and never let it out again!
The Biocoiff' range of certified organic solid shampoos
To be even more environmentally friendly, Biocoiff' has launched its range of organic certified solid shampoos.
You are bound to find something to suit you.
The range of certified organic solid shampoos is very wide to suit everyone.
Why choose a certified organic shampoo?
Because you use it daily, you probably don't pay attention to the composition of your shampoo anymore.
Yet you should take a close look at this last one.
Many manufacturers include in their shampoos components that are widely controversial for their effects on health.
Several recent surveys carried out by consumer associations or the press have revealed the presence of parabens and sulphates in a large number of industrial shampoos.
Used as preservatives, paraben derivatives are notorious for being powerful endocrine disruptors.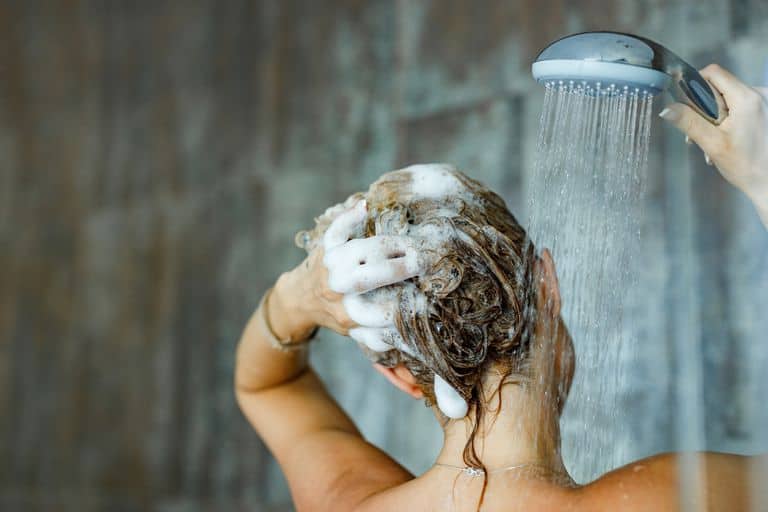 Sulphated detergents dry out the hair and scalp and cause severe irritation, especially to the eyes.
Even worse, some products contain aggressive chemicals alongside them.
It is clear that the biggest shampoo brands all contain one or more controversial molecules.
However, the latter pose two major problems: for the health of consumers who use their shampoos every day and for nature, which sees these molecules flowing in via the treated water.
Current wastewater treatment does not remove these non-biodegradable compounds.
They thus cause a sneaky pollution of rivers and streams.
After months and months of study and analysis of the components of Biocoiff' shampoos, we finally obtain the COSMEBIO® label.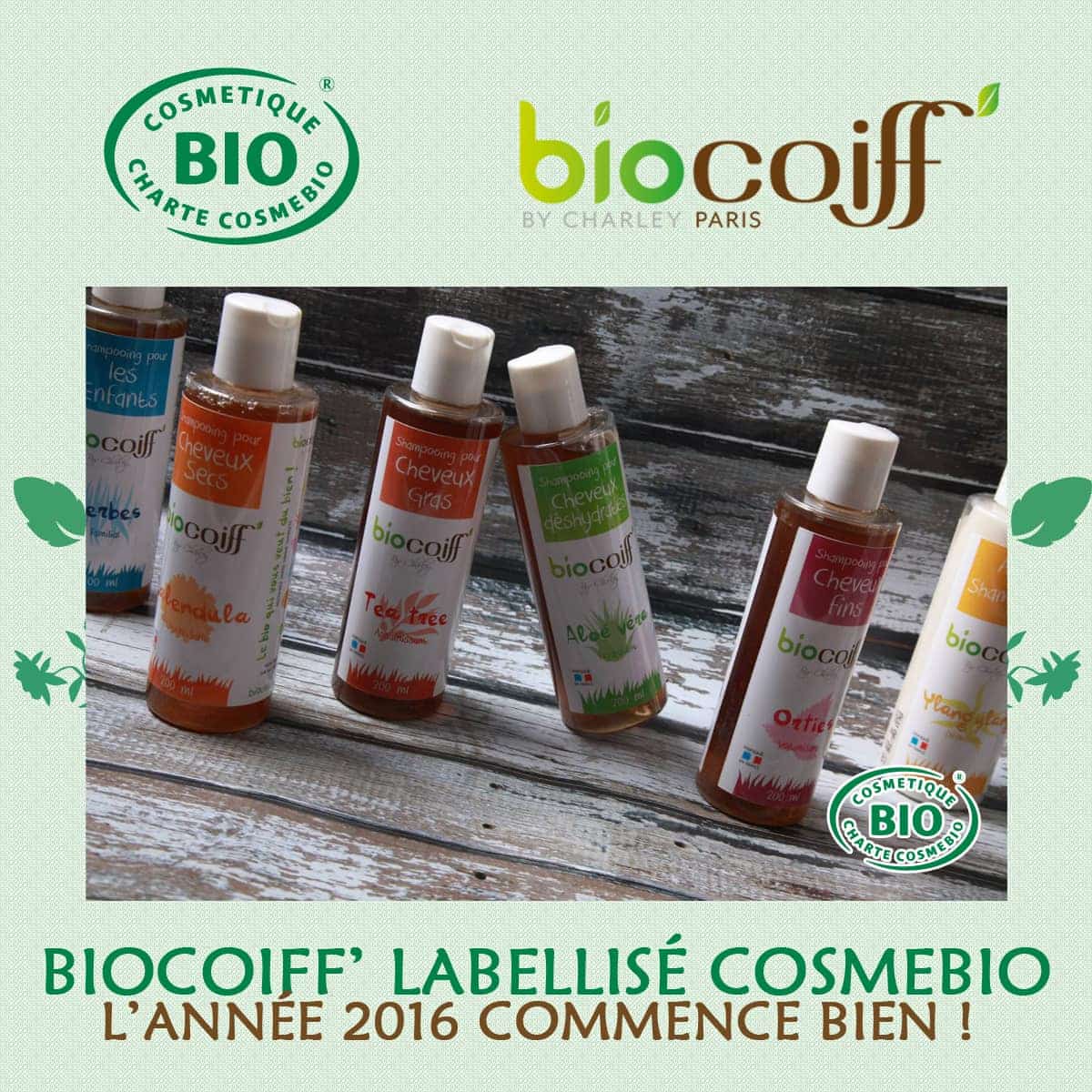 What is the COSMEBIO® label?
The COSMEBIO® label is the pioneer of Organic cosmetics in France. Since 2002, it has guaranteed the organic character of the product and the commitment of the brand. Behind this label, it is a real association, a collective, a network:
It is the 1st world association dedicated to organic cosmetics.
The label has more than 9000 product references and 350 companies (ingredient suppliers, laboratories, etc.).
More than 450 brands benefit from the COSMEBIO® label.
"A cosmetic that respects LIFE!"
The COSMEBIO® label commits itself to several values:
Human life: the ingredients from petrochemicals have been replaced by ingredients of natural origin favouring Organic Farming.
Nature: an organic cosmetic is made using gentle and non-polluting manufacturing processes and requires recyclable packaging.
Pleasure: pleasure textures, formulas with innovative active ingredients, refined fragrances, organic cosmetics are full of beautiful discoveries in the service of well-being.
Respect for people: fair trade and Corporate Social Responsibility (CSR).
Respect for nature: Biodiversity and Environment.

Biocoiff' and COSMEBIO®: proof of our commitment
Because a commitment is proved by deeds and not just words, Biocoiff' has therefore become an active member of the COSMEBIO® association and Biocoiff' Shampoos are now labelled, and we hope to reassure all those who wish to try our products with the certainty that they are organic.