Bloggers give their opinion on Biocoiff'.

Sometimes bloggers leave their keyboards to come to Biocoiff'.
You are always welcome, ladies, especially when you talk about us :-).
You can also request a press kit by clicking here.
Haircut and Hair Donation by Parenthesis Tutorials
Biocoiff's approach is respectful of the environment, of the hair, but also (and above all)of the people on whom this hair grows. When I went to the salon in July, I discovered an adorable team that listens to their clients, and above all: caring.
The blog "Bonheur au Naturel" tests and approves Biocoiff'!
We hear a lot about it at the moment, a fashion phenomenon or a real need to go back to basics, the plant coloring is becoming more and more popular among young women (...)
The famous "Peau Neuve" blogger!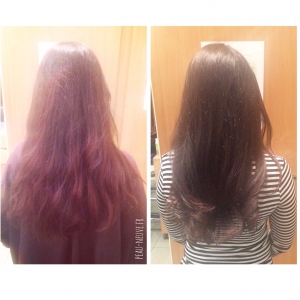 Peau Neuve is one of the leading bloggers on the subject of natural beauty. We chose to invite her to Biocoiff' so that she could discover our colorings 100% plant-based, and here is the result...
Health & Cooking
The "Health & Cooking" blogger Laetitia came to our salon in the 6th arrondissement (Rue des Ciseaux) to try one of our "Soins Profonds". She was not disappointed and tells us all about it in an article with pictures :)...
Audrey Sarrat
The blogger and TV presenter Audrey Sarrat wanted to come and test colorings plant-based Biocoiff', and she was not disappointed! She even made a video report on the spot. We let you discover all this in detail...
Creativ People
The blogger "Creativ People" visited us in our Biocoiff' salon. She describes her experience and she particularly appreciated: our shampoos, the softness of our lights and the absence of chemical odours (...)
My Winter Garden
The blogger "Mon Jardin d'Hiver", has tested and approved our shampoo for dehydrated hair (Aloe Vera). In her article, she tells you about her experience with Biocoiff' (...)
LittleJBeauty
The blogger "LittleJBeauty", tested Biocoiff' with a salon treatment. She tells you about her experience on video (...)
Karo10
The blogger "Karo10", tested our box color at home. She tells us about her experience, the steps of the coloring plant and the final result (...)
Naomi
The blogger "Naomie" tested the highlight with clay in our Biocoiff' salon. She tells us about her first experience in the world plant-based (...)
Salvadordali
The blogger "Salvadordali", gives her opinion on her Biocoiff' experience in salons. She explains the course of her session and (...)
Katy Kat
The blogger "Katy Kat" has taken the plunge and has moved on to coloring vegetal in our Biocoiff' salon. In this article, she tells you about her experience and her feelings (...)
Pin Up Bio
The blogger "Pin Up Bio", tells us how to proceed to make her vegetable coloring at home with the Biocoiff' box. Discover all the steps in her article (...)
MadmoiZelle
Virginie from the blog "madmoiZelle", tested the coloring 100% vegetal. She tells you about her experience and shares with us her feelings about her first experience in our Biocoiff' salon (...)
Mommy on top
The site "Maman au top" tested the coloring plant in our Biocoiff' salon. She explains the steps, the result, what she liked (...)
Delphine the clever one: my hair routine
Organic Pinup : Episode 3 !

Organic Pinup Carole comes back to Biocoiff' for her 3rd episode of hair challenge, I go back to natural and take the opportunity to discover the new Biocoiff shampoo range.

Le Blog bio et Nature: the green blog of an ecologist journalist, for more nature in our daily lives!
The Venus Mag blogger tests our products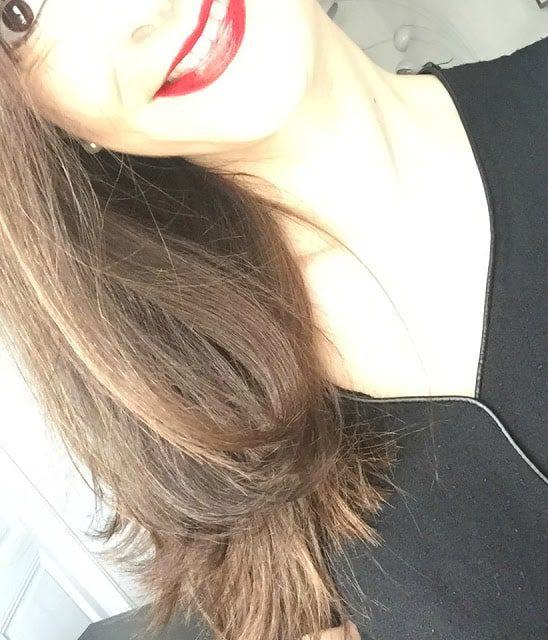 A month ago, it was the second time I went to Biocoiff... One fine day, I got tired of taking my shampoo to the hairdresser's and especially of paying extra for a mask that I provided... So I pushed the door of Biocoiff knowing that for my part, as I said, I only do shampoo, cut, blow dry.
Ewa's Appointments
I found my happiness !!!! The solution was right in front of me thanks to Instagram once again! Biocoiff! I made an appointment last week for this Wednesday 24th February
La Parigote Bio tests our products
After several articles read about this brand, praising the miracles of their products and their salons, I too wanted to test and verify for myself the veracity of these compliments!
Asmae - Take it Green
The blogger Asmae "Take it Green" did us the honour of coming to our salon in the 6th arrondissement to get a very nicecoloring (see the photo!). She tells you everything in a short and concise article...
Brand Images
Katarina, from the blog Images de Marques, discovered the colorings plant-based Biocoiff' through the Box color. She tells us about her experience, from the diagnostic request color to the application of the color. You can find out more by reading her article...
Of course Lyla
The blogger "Naturally Lyla", tells about her experience in our Biocoiff' salon. She tried the Jasmine treatment and gives us her feelings on the (...)
Parenthesis Live Reporting Tutorial
The blogger "Parenthèse Tutoriel", has tested Biocoiff and she tells you about it in her video (...)
Two Be Bio
The organic beauty blogger "Two be Bio" ordered a box color Biocoiff' and shares with us her experience (...)
Read the articlee
Easy Blush
The blogger "Easy Blush", tells how Biocoiff' saved her hair. From bad experiences to bad experiences, she decided to go to plant-based (...)
ArwenilaBlog
The blogger "ArwenilaBlog", gives her opinion on the shampoos in our Biocoiff' range (...)
Koming UP
Valérie from the blog "Koming UP", describes her experience in our Biocoiff' salon. She gives her opinion on the coloring plant and her feeling (...)
Mommies who are kicking ass
Sophie from Mums who rock came to the salon to test a session of coloring . The result in this very well written article:
In Paris, in the 13th arrondissement, place Jeanne d'Arc, Charley and his team warmly welcome me. It's 10 a.m., the living room has just opened and is already full.My first surprise is the smell: It doesn't smell at all like ammonia or chemicals, no, but a slight smell of clay. And coffee, too. The living room is bright, predominantly green, the atmosphere is friendly...
The sweet melody
Marion came from Alsace to Paris. She took the opportunity to accept an invitation to Biocoiff' for a natural treatment session to give her hair a little health boost.
We sent Biocoiff' shampoos to Audrey from Ma pousse de cheveux who gives her comments after testing.
The very nice Amandine from the Blog "Among the Animals" came to test Biocoiff'.
Amandine, from the blog Among the animals, came to the salon with her photographer, explains everything and describes how she felt about her first session at Biocoiff': a conclusive experience!
Lady Butterfly tests the Bicooiff shampoo with tea tree
Lady Butterfly, a nice blogger interested in natural products contacted us and came to see us to understand what we were doing at Biocoiff, she left with a Biocoiff' tea tree shampoo and was able to test it at home. Here is her comment after the shower
Blogger Audrey from the blog Parigina Makeup came to visit us (with his mother) to make a first session of coloring plant. Here is his report and his explanations about his experience. She was delighted and her smile filled the whole Biocoiff team. Thank you Audrey for this report !!!